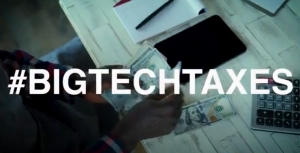 WASHINGTON, DC – Today, The Tech Oversight Project launched a new TV ad buy, new TV ads, and new digital for its current campaign to support passage of the American Innovation and Choice Online Act and the Open App Market Act. The ad campaign will be running through the end of June in AZ, DC, GA, NH, and NV media markets. One of the spots, entitled "Rein In," reminds voters that behind the barrage of dark money TV ads are the same Big Tech companies like Google, Apple, Facebook, and Amazon who have abused their power for years. The additional spot, "Big Tech Taxes," makes the case that some of Big Tech's most predatory practices and fees are passed on to consumers in the form of higher prices and costs – The Big Tech Tax.
The Tech Oversight Project's accompanying digital campaign will run in AZ, CO, DC, GA, NH, and NV. The campaign's creative is designed to remind Senators that voters want them to support these bills and see them signed into law. Sample digital creative is below.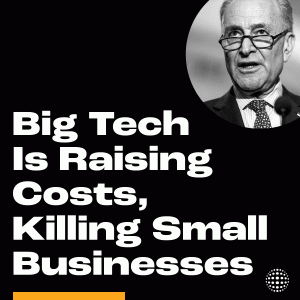 "Big Tech behemoths use their gatekeeper status to squeeze small businesses dry with unfair fees that raise costs on families everywhere. It's time that voters are reminded who is behind rising prices and the dark money TV ads they're seeing – the same corporations and executives whose predatory practices have damaged our country for years," said Sacha Haworth, Executive Director of the Tech Oversight Project. "We have a limited window to pass bipartisan and commonsense Big Tech reforms that curb their most predatory practices, preserve the internet for the future, and spur on the next generation of innovation. Anything but passage is mortgaging our economy and future to a handful of unelected tech companies and their abusive monopolies. The time to act is now. That's why we are calling on Senate Majority Leader Schumer to make good on his promise and bring these bills to a vote."
Recently, the Tech Oversight Project released a Hart Research poll showing overwhelming support for antitrust measures, including the American Innovation and Choice Online Act (AICO) and the Open App Markets Act (OAMA) in key Senate battleground states – Arizona, Georgia, New Hampshire, and Nevada. The survey results also tear apart Big Tech's talking points and fearmongering – with vast majorities of respondents siding with supporters of antitrust legislation and wanting their Senator to vote for these bills. The survey release comes on the heels of an announcement that the antitrust package would be scheduled for a vote in the Senate early this summer, and a nationwide survey showing GenZ voters are also in favor of congressional action. View the full poll here.
Industry front groups spending on behalf of and financed by Google, Apple, Facebook, and Amazon: 
TechNet

Net Choice

American Edge Project

Chamber of Progress

CCIA

New Democracy Fund

Common Sense Leadership Fund

Consumer Tech Association 

Taxpayer Protection Alliance
"Rein In" Ad Script: 
A bipartisan supermajority of Americans want to stop the abusive power of Google, Facebook, Apple, and Amazon. 
Mark Zuckerberg and Big Tech are spending millions to stop that from happening.
Are they going to get away with it?
It's time for the Senate to decide who's in charge: the American people or Big Tech.
Call your Senator…And demand they pass S.2992.
"Big Tech Taxes" Ad Script:
You can't run a small business these days without using Amazon, Apple, Google, and Facebook. 
And Big Tech knows how much small businesses rely on them.
So they charge companies unfair fees that are passed down to consumers.
These Big Tech Taxes rip off small businesses and jack up prices for everyone.
Congress has the power to fight back for consumers.
Call your Senator and demand they pass S.2992.